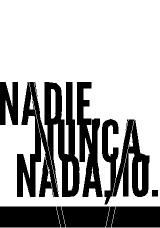 CIIA
El Centro de Investigación sobre la Institucionalidad del Arte (CIIA) es un proyecto del Antimuseo con la colaboración de Nadie Nunca Nada No y La Grieta – Plataforma cultural. Su objetivo es analizar críticamente el sistema del arte para entender las condiciones —tanto materiales como ideológicas— de su producción, distribución y consumo. Como resultado de las investigaciones se publicará un artzine trimestral, diseñado como contenedor flexible de textos e imágenes. Se imprime combinando técnicas divesas, tanto industriuales como artesanales, y la tirada es de 150 ejemplares numerados.
Puedes adquirir los números de CIIA en:
http://www.antimuseo.org/proyectos/CIIA/comprar.html
The Art Institutionality Research Center is a project by Antimuseo with the collaboration of Nadie Nunca Nada No and La Grieta – Plataforma cultural. Its goal is to produce a critical analysis of the art system in order to understand the material and ideological conditions of its production, distribution and consumption. We will publish the outcome of this research in a quaterly artzine, designed as a flexible container for text and image. It is printed combining handmade and industry techniques, with a print run of 150 numbered copies.
You can buy the different issues of CIIA:
http://www.antimuseo.org/proyectos/CIIA/comprar.html
Or here